Gratitude Quote of the Day April 10, 2020 – "Poop-free Water"
Gratitude Quote of the Day April 10, 2020 – "Poop-free Water"
Today's Gratitude Quote of the Day…
…comes from the founder of ThanksThoughts.com. It inspires gratefulness, activism, and mindfulness in equal parts. It is…
"Today I read that 2 billion people drink feces contaminated water
every day.
I added 'poop-free water' to my Gratitude List."

– Barbara Farfan, Founter of ThanksThoughts.com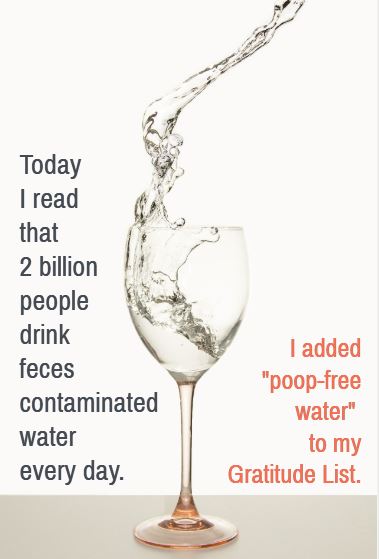 I was researching an article about Not-as-Bad News About the COVID-19 Coronavirus, and I came across the fact that 2 billion people – which is a stunning 2.56% of the world's population – drink water that is contaminated by feces every day. I was stunned at that number and also shocked at how globally unaware I was about that.
Every time I have reached for a bottle or glass of water since then, I have remembered to be grateful for something I have taken for granted my entire life – uncontaminated drinking water that flows freely to me in my home.
This Gratitude Quote of the Day inspires me to be thankful for the many, many things I have that others around the world can only dream about. It also inspires me to take action to be a more aware global citizen and to do something to support projects that are dedicated to providing clean water to ALL the people on planet Earth.
Will you ever be able to turn on a water faucet or drink a bottle of water without thinking about the 2 billion people drinking water with poop in it? You can't unknow that. Hopefully you don't want to.
Here's a fascinating article about what the Bill & Melinda Gates Foundation has focused on to eliminate the feces-contaminated water situation around the world.
And here's a dozen non-profit organizations dedicated to making clean water a basic human right for all the people of the world. If everybody in the U.S. would donate an amount equal to a 12-pack of bottled water to these organizations, the impact would be enormous.
Today we can all be grateful for poop-free water. It's a gift that keeps on giving.